March 07, 2018
Among several types of animations that PowerPoint 2016 provides, Entrance effects are probably the most popular. By applying Entrance animation effects, you can make your slide objects appear on the slide almost magically! You make them appear in the fraction of a second, or get them to fly in from any direction. You can also do a zoom in, or even better, just make it subtle with a simple fade in. Whichever Entrance animation effect you choose, make sure to go for something that is in sync with the subject of your presentation. Most of the time, Appear, Fade, or Wipe effects work the best.
Explore Entrance animation effects in PowerPoint 2016 for Windows.
---
March 06, 2018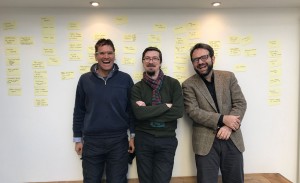 We begin by featuring the Hypersay team in an exclusive interview. Paul Balogh, Cristian Dinu, and Brian Daly talk about Hypersay, a product that improves PowerPoint by making it a conversation. We next feature Guillaume Otrage, who co-founded Wow3D with Krzysztof Kobus to bring the 3D "Wow" of Pixar to PowerPoint. We also bring back Gear Graphics, the second series for PowerPoint that lets you add pre-animated gears to your slides.
PowerPoint 2016 for Windows users can learn about File Types That Can be Opened, File Menu and Backstage View, and adding animation. PowerPoint 2016 for Mac users can learn about Rulers. And if that wasn't enough for this week, make sure you do not miss the quotes, press releases, and templates released in the last seven days.
Stay informed about updated tutorials and happenings related to PowerPoint and presenting.
---
March 06, 2018
Adding animation to your slide objects is easy, but needs prior thought. It's best to first decide what type of animation works best for a particular slide object. The type of animation used for any object is paramount because it can make the animated end-results viable, or relegate it to a distraction. In this tutorial, let us get started with showing you how many types of animations are available within PowerPoint 2016. When we say "many types," we do not mean the animation effects themselves, but the categories in which these Animation effects are divided.
Learn about different animation types in PowerPoint 2016 for Windows.
---
March 05, 2018
I read an article in a large, mainstream publication about how PowerPoint may be the enemy, and of course, they had to show this famous slide about the complexity of American strategy in Afghanistan in the article.
---
March 05, 2018
In PowerPoint on Windows, you will be able to use a number of keyboard sequences which help you access various menu commands. These keyboard sequences are combinations that start with pressing the Alt key followed by a few more characters in succession. But with Mac versions of PowerPoint, this approach doesn't work. You can do something similar but even then, the process and the results are both a little different. Let's learn more in this tutorial.
Explore keyboard sequences in PowerPoint 2016 for Mac.
---
March 01, 2018
After the success of our Animated Gears, the first series, we are happy to bring you a new set of animated Gears. We call this one Animated Gears Again! Like the earlier series, these come in both animated and non-animated versions. The time-consuming process of using Gears and animating them in PowerPoint is now made easy again.
Download and use these gears in your slides.
---
March 01, 2018
When working with multiple slide objects, you should have a visual cue about where you are placing slide objects. You can get exact coordinates of your slide objects using the positioning options in PowerPoint, but most of the time, you just need an approximate idea of where your objects are placed, and this can be easily obtained by using the Rulers option available in PowerPoint. Turning on this option shows you the rulers in PowerPoint. These rulers are located on the top and left parts of the active slide.
Learn about viewing and using Rulers in PowerPoint 2016 for Mac.
---
February 28, 2018
You may create the best PowerPoint slides, and populate them with amazing visuals, but unless you put in the same amount of thought into what you write, you may end up with slides that do not have the impact you may have desired.
Explore five ways to write better content for PowerPoint slides.
---