December 26, 2017
PowerPoint 2016's Presenter View is a purpose-built view that accompanies Slide Show view. This view is beneficial in an environment that has at least two displays such as a laptop and a projector. The projector then shows the actual slides – that is what we commonly call Slide Show view. However, you see the Presenter view on the laptop. In Presenter view, you get to see much more than just the slide — rest assured that the audience viewing the projector output see only the slide!
Learn about Presenter View in PowerPoint 2016 for Windows.
---
December 22, 2017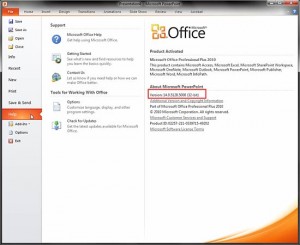 Sometimes, you want to know whether you are running a 32 or 64-bit version of PowerPoint or Office. Yes, if you are running a 32-bit version of Windows, then there's no ambiguity in the fact that you have to be running a 32-bit version of Office. But if you are running a 64-bit version of Microsoft Windows, you may be running a 32 or a 64-bit version of Office. Many sysadmins and even users run 32-bit Office within a 64-bit Windows environment because there are add-ins that may not work in a 64-bit version of Office. Or you may have another reason. Luckily, it's easy to identify 32-bit or 64-bit if you know where to look.
Find out whether your PowerPoint and Office 2010 version is 32 or 64-bit.
---
December 21, 2017
In various versions of PowerPoint, including PowerPoint 2016 for Mac, what's the one thing that has not changed? Yes, it's PowerPoint's tri-paned interface! So, why is the interface called tri-paned? Are there three distinct regions within the PowerPoint 2016 for Mac interface? Yes, the Slide Area is one of three principal regions in PowerPoint 2016; the other two being the Slides Pane and the Notes Pane.
Learn about the Slide Area in PowerPoint 2016 for Mac.
---
December 21, 2017
The Star Wars Style Credits Animation presentation includes a sample slide in which the credits animate in the Star Wars style. You can download this presentation and change the text in the animated text boxes as required.
Download and use these Star Wars like slides.
---
December 20, 2017
My first presentation was not successful. Weeks went into preparing content. I didn't focus on "mindset" I needed for a great performance. Since then I have developed Communicating with P.O.W.E.R. – my own methodology. Follows these steps and you'll deliver successful speeches and presentations every time.
---
December 20, 2017
Your slides remain the same, yet the various views in PowerPoint make exploring those same slides a little different. This approach makes sense because viewing slides in Slide Show view gives an entirely different perspective than editing them in Normal view. Further, it's easier to reorder and work with multiple slides in Slide Sorter view and make changes to individual slides in Normal view.
All put together, PowerPoint 2016 provides you with ten different views. Eight of these views can be accessed from the View tab of the Ribbon.
Learn about various views that allow you to edit and show slides in PowerPoint 2016.
---
December 19, 2017
This week we feature Chris Larson of Techsmith who talks about Snagit 2018, the new release of their screen capturing program. He even shares videos of his favorite new Snagit features. BrightCarbon, a UK design agency shares some amazing PowerPoint animated cards for Christmas and the New Year. Scott Wakefield talks about these cards, and why they are giving them away. Sharyn Fitzpatrick, one of our favorites talks how you can be well-prepared for a webinar. She speaks about an awesome checklist. Did you know that there can be three types of uppercase characters you can type within PowerPoint? This is one of those thoughts you have to share. And then we show you how you can use a $5000 dollar font in your PowerPoint even though it is not installed it on your system, and you don't see it. But PowerPoint will still insist that the font is used!
PowerPoint 2016 users who followed last week's customization tutorials now can learn to add their own commands to custom groups on the Ribbon. When you are happy with your Ribbon customizations, you can Reset, Export, and Import them. We also explore the amazing Touch and Mouse mode toggle. PowerPoint 2016 for Mac users must explore the overlooked options within the Status Bar. For most Windows versions of PowerPoint, did you know that Microsoft provides STAMP, which means Sub-titling text add-in for Microsoft PowerPoint, and enables you to create captions for video and audio files within your PowerPoint presentations? And if that wasn't enough for this week, make sure you do not miss the quotes, press releases, and templates released in the last seven days.
Stay informed about updated tutorials and happenings related to PowerPoint and presenting.
---
December 19, 2017
Among the tabs within Backstage View, we have already explored some options such as Open, New, Save, etc. In this tutorial, we will explore the Print option used to print the current presentation in the form of selected slides, notes pages, handouts, etc. Follow these steps to learn more about Print options within Backstage view in PowerPoint 2013.
Learn about the Print option in PowerPoint 2013 for Windows.
---